Australian Hot Rodder #5 has landed and is now available for sale. On the cover we feature Mark Koster's stunning bare metal '34 Plymouth coupe.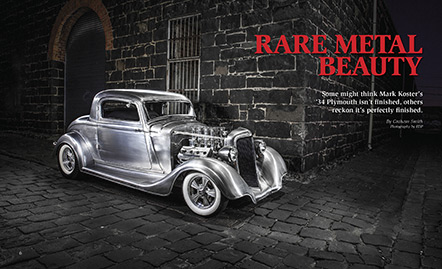 Mark Koster had ideas of painting his rare Hemi-powered '34 Plymouth coupe in gold metalflake, but it looked so good in bare metal that he decided to leave it that way. The eye-popping result is there for all to see in our fabulous photos.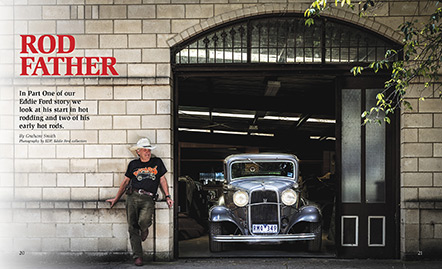 No one has done more in hot rodding than Eddie Ford. After discovering hot rodding in the 1950s Eddie built his first hot rod, a '34 Ford coupe, then travelled to the other side of the world to hot rodding's heartland in the 1960s where he met many of the legendary figures of American hot rodding.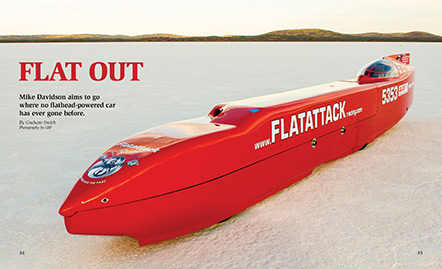 Mike Davidson was a teenager when he was attracted to salt lake racing and the idea of being the fastest in the world. His quest is to be the fastest ever flathead racer with his twin-flathead V8-powered streamliner that is being dialled in to go better than 300 mph.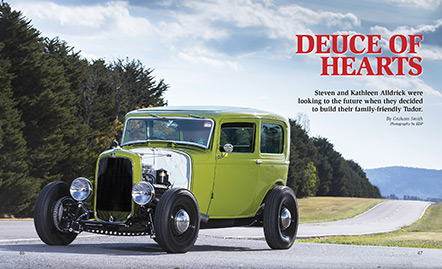 Kathleen Alldrick dreamt of driving a '32 Ford coupe, but husband Steven reckoned a Tudor would be more practical for a young married couple with plans for a family. Steven built the sweet Tudor the way he believed Henry Ford would have done it.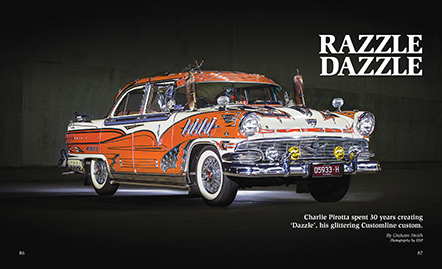 Charlie Pirotta spent 30 years transforming his '56 Customline into a dazzling piece of rolling artwork. Night after night he would work away in his shed crafting the hundreds of pieces of polished, chromed and bejewelled adornments that make his car such a unique custom.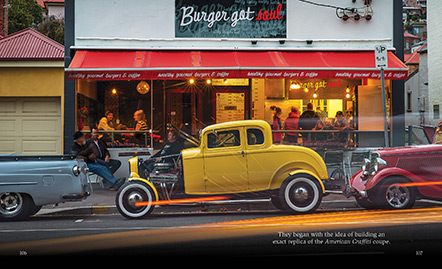 Watching American Graffiti with his daughter Jane inspired Peter Leech to build a car in the image of John Milner's classic movie car, but do it better.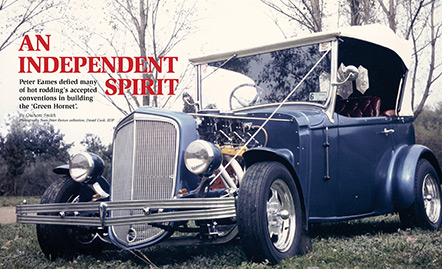 Peter Eames has never bothered about the badge on the cars he's chosen to turn into hot rods. We track the build and life of the 'Green Hornet', one of our most enduring hot rods, the '34 Chev bucket Eames built in the 1960s.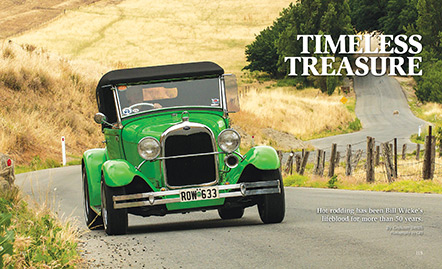 More than 50 years ago South Australian Bill Wickes took a solid old Model A roadster and turned it into a hot rod. It's just as appealing today as it was in the 1960s.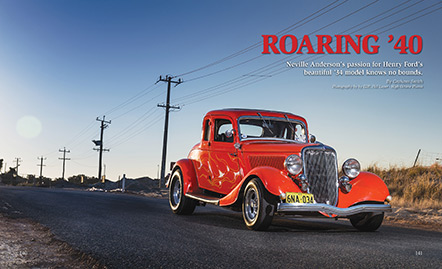 In the 1970s Neville Anderson endured dirt, dust, breakdowns and crashes in his '34 Ford coupe just to get to the Narrandera Nationals from his Perth home. Despite the trials and tribulations of a long life on the road Neville's coupe is still going strong.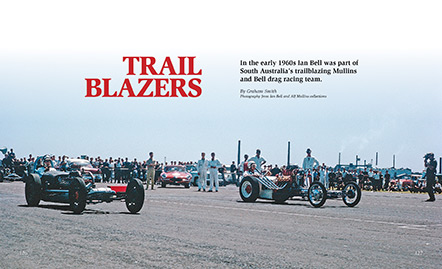 There was no drag strip in South Australia in 1962 when Alf Mullins and Ian Bell built their blown Chrysler rail and lifted drag racing to a new level of performance. The arrival of the Mullins and Bell rail inspired drag racing legend Eddie Thomas to greater heights of performance.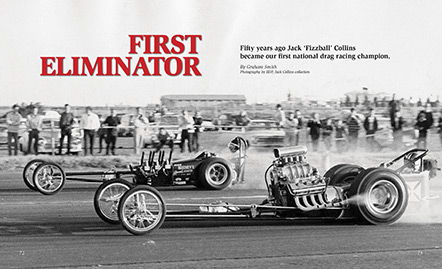 The first national drag racing titles were held at Fishermens Bend in Melbourne 50 years ago and a young Melbournian driving a six-cylinder Holden-powered rail beat all comers to emerge the winner.
Order your copy now by heading to www.australianhotrodder.com.au, or give us a call at 0409 705 062