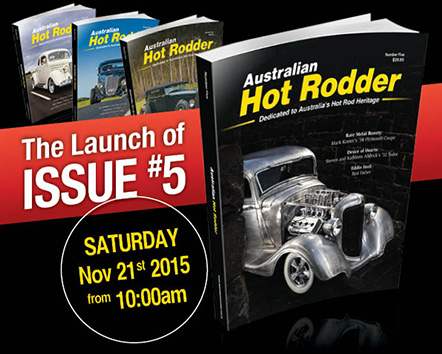 It's become tradition that each new issue of Australian Hot Rodder is launched with an official function, and #5 is no different.
This year's event will be held at The Rubber Connection in South Dandenong and the indications are that it will be special.
Joe Pirotta has agreed to bring The Crimson Pirate along. It will be the first time Joe has showed his iconic hot rod in public since the launch of AHR #1 at his factory.
The Crimson Pirate was featured on the cover of AHR #1. It was also on the cover of the first issue of Eddie Ford's Custom Rodder magazine way back in 1967.
Along with The Crimson Pirate there will be another Pirotta classic, this one the wildly customised Customline of Charlie Pirotta that he dubbed Dazzle.
John Gladwell now owns Dazzle, and he has agreed to give it a rare outing by bringing it along on the day of the launch. Dazzle is one of the cars featured in AHR #5.
Another feature car from AHR #5 to be at the launch is the beautiful Apple Green highboy Deuce Tudor of Steven Alldrick.
The launch starts at 10.00 and will wrap up at 2.00 pm at The Rubber Connection, Factory 6/355-365, South Gippsland Hwy, Dandenong South, VIC.
The Bay Rodders will be running a sausage sizzle on the day, and drinks will be available.
Copies of AHR #5 will be available to purchase at the launch, along with copies of earlier issues in case you missed out.