It's been a long time coming but the wait is finally over with the arrival of Australian Hot Rodder Issue #9 from the printer.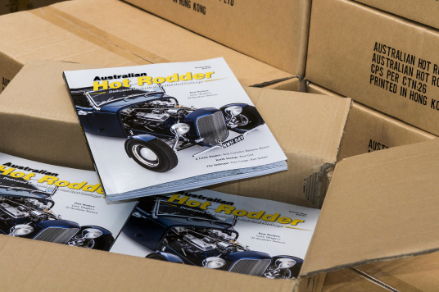 Since its arrival we've been flat out packing and posting copies pre-ordered by our loyal readers, and the feedback we've received has been positive and enthusiastic.
AHR #9 is jam-packed with great features and stunning photography of a selection of new and older Australian hot rods, plus features on drag racing and hot rodding art.
The cover story tells the tale of a channelled '32 roadster built in the mid-1960s by Queensland rodder, Gary Wright, right through to its stunning rebirth by NSW Central Coast rodder, Michael Morris.
Our telling covers the initial build by Wright, the 1970s rebuild by George Kotevich, and all of the owners before Morris stumbled over it and decided to faithfully restore it the Wright way.
There's plenty more in AHR #9, like the Sedoupe show star from the 1960s, plus Glen Rewell's stunning creations crafted from old lawn mower parts, 'Flat Out' Frankie Robinson's adventures at the wheel of his Model A roadster, Keith Stamp's love of hot rodding and historic racing, 'Wild Man' Jim Walton's time at the wheel of a Fuel Altered drag racer, Rob Hoskins love of early Fords, and Rob Carroll's classic Deuce highboy roadster.
All of that at the special discount of 25% off the regular cover price while the Covid 19 pandemic is with us.
The 25% discount also applies to all back issues of AHR #9 which makes it a great time to pick up any past issues you've missed out on.
Order your copy now! Click here, or phone 0409 705 062.