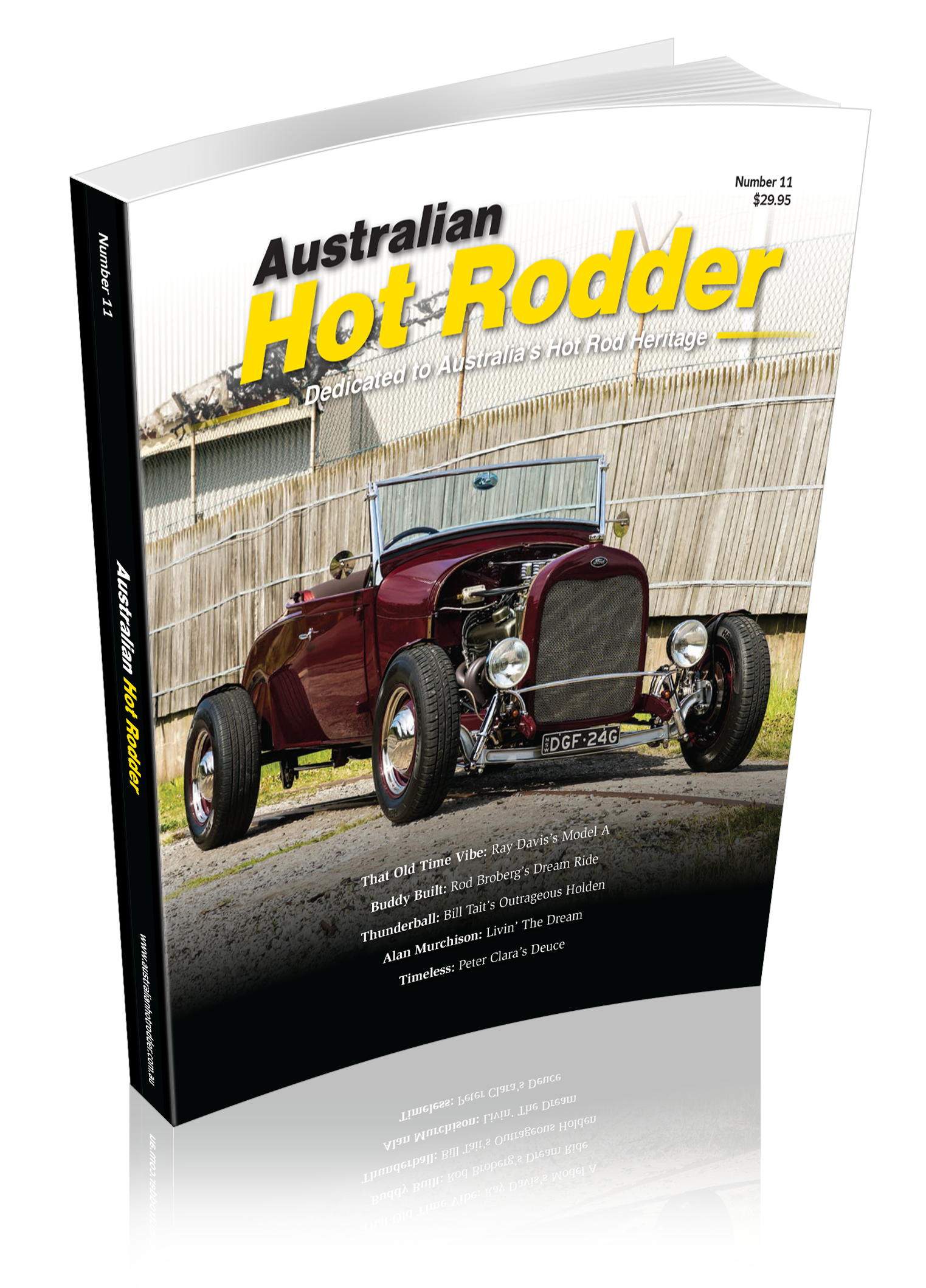 The latest issue of Australian Hot Rodder – #11 – is now in stock and available to order.
Following on from previous issues of AHR this new issue is jam-packed with interesting and informative features accompanied by fantastic photos of iconic Australian hot rods, rodding personalities, and drag racers.
Features included in AHR #11 are:
Rod Broberg's Model A dream.

Rod Broberg spent more than 20 years collecting the parts to build the flathead-powered Model A coupe of his dreams, but had barely started on it when he sadly passed away. His passing could have spelt the end of the story, but it didn't. Two of his good mates, Rick Pianta and Ray Charlton, took it on and saw it through to the finish for his widow, Heather, to enjoy.

Ray Davis' traditionally-styled Model A roadster

Ray Davis drew inspiration from tradition for his Model A roadster. While the super sweet rod boasts a raft of brand new aftermarket hot rod bits and pieces its style is straight out of the 1950s rodding playbook.

The Wilson brothers' Six Pot Screamer.

The six-cylinder Holden-powered altered built and raced by Melbourne brothers Ivan and Paull Wilson was one of the winningest rigs on the race track in the 1970s, setting a host of time and speed records, snaring numerous titles, and shattering the 10-second barrier.

Bill Tait's Thunderball.

With a 27-litre World War 2 Rolls-Royce V12 bomber engine filling it from top to bottom, front to back the sedan dubbed 'Thunderball' has to be the most outrageous Holden to ever put rubber to road.

John "Chook" Taylor's beautiful black '33 coupe.

John Taylor, aka "Chook", was a youngster when he caught the hot rodding bug in the 1950s. When he set out to build his '33 five-window coupe he chose to do it in the style of the rods he remembers from the early days of rodding on the streets of Sydney.

Livin' the dream

Alan Murchison has been living the hot rodding dream for more than 70 years since discovering the new and exciting hobby on his way to school way back in the early 1950s. In the years since he has built hot rods, raced them on the speedway, and blazed across the dry lakes of South Australia in a wild twin-engined streamliner.

Peter Clara's timeless Deuce.

Peter Clara's Deuce roadster was one of the best rods on the road in the 1950s when it was built by Geoff Sleeth; today it's one of the most authentic early rods to be found.

Parts Pioneer

Before we had hot rod supermarkets to source our parts local rodders had to rely on men like Jim Veal who was one of the first to get involved in the manufacture of hot rod parts in Australia.
Order your copy of AHR #11 right here or by phone on 0409 705 062 and we'll have it winging its way to you home in no time at all.