Just in – we received the advanced copies of Australian Hot Rodder #5 last week for approval, and it looks great.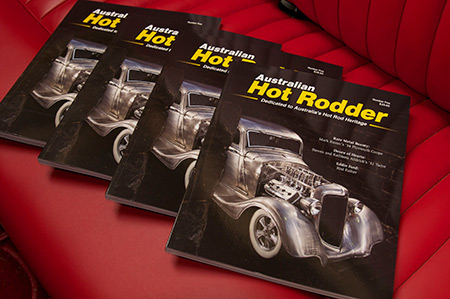 The printer has done a great job and we gave him our tick of approval to go ahead and ship the bulk quantity of magazines.
The cover with Mark Koster's bare metal '34 Plymouth coupe dramatically shot at night in a back alley in inner Melbourne came up a treat.
Koster's beautiful hot rod is just one of the fabulous cars featured in Issue #5 of Australian Hot Rodder.
As well as the Plymouth we feature Flat Attack, Mike Davidson's twin-flathead powered salt lake streamliner. The South Australian is aiming to reset the existing benchmark for flathead-powered cars by going in excess of 305 mph in this beautifully built racer.
We also document the life and times of Eddie Ford, arguably the Australia's most influential hot rodder. In the first part of our story on Eddie we look at his early hot rods, the channelled '34 coupe he built in the early 1960s, and the '32 three-window coupe he built later in the '70s.
If that's not enough there are also features on Neville Anderson's '34 coupe, Bill Wickes' Model A roadster, Peter Eames shorty '34 Chev bucket, Charlie Pirotta's dazzling '56 Customline, Peter Leech's '32 coupe, the '32 Tudor of Steven and Kathleen Alldrick, the Mullins & Bell blown Chrysler rail, and Jack "Fizzball" Collins, the winner of the first national drag racing title.
Now that the shipping has been approved we expect to have copies available for sale within the next few weeks.
As soon as they arrive we'll be busy sending them out to everyone who has pre-ordered the magazine.
To order your copy, go to www.australianhotrodder.com.au, or phone 0409 705 062