BUY TWO OR MORE ISSUES OF
AHR AND SAVE HEAPS!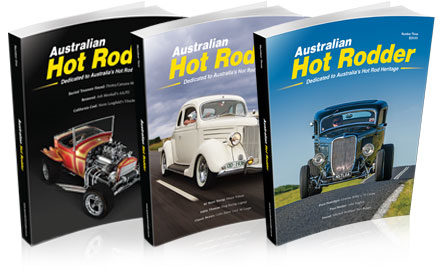 In a great new deal we're offering our loyal readers the chance to buy their favourite magazine and save heaps.

When you buy two or more issues of Australian Hot Rodder we'll now send them to you post-free. That's right, there are no postage and handling charges when you order two or more magazines.
That's a massive saving of $12 on two issues, and it's even more if you buy more than two.
To take advantage of our great offer go to www.australianhotrodder.com.au or phone 0409 705 062.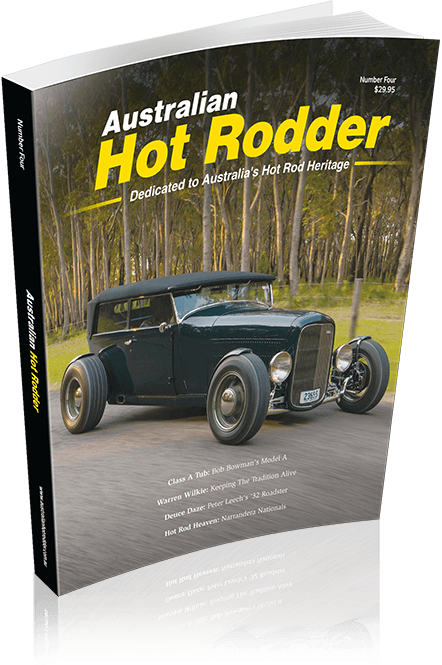 AHR #4 NEARING COMPLETION
Work on AHR #4 is nearly completed and we hope to send it to the printer in the coming weeks.
In the course of the last few months we have travelled far and wide and talking to some of Australia's top hot rodders for the stories featured in AHR #4.
We began in New South Wales where were fortunate enough to spend a few days with Bob Bowman, the builder of the legendary Peppermint Pirate Model A coupe back in the 1970s.
Bob still owns the Pirate and we couldn't resist shooting it for a feature in our latest issue, and while we were there we just had to shoot his latest project, the Deluxe A tourer, which graces the cover of AHR #4.
The hand-built Deluxe tourer is a masterpiece of hot rodding ingenuity and Bob gave us the inside story on how it came to be and the enormous challenge in building it.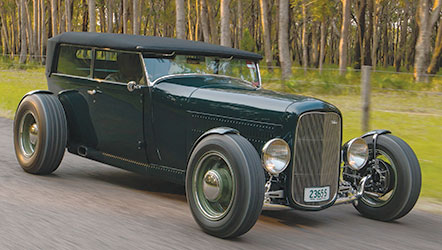 Anyone who was at the first ASRF Nationals in Narrandera in 1973 would remember Warren Wilkie's sharp Model A roadster, the one that won the prestigious People's Choice award.
We also travelled to Toowoomba in Queensland to check out Warren's latest creation, a brilliant red '36 Ford three-window coupe.
The coupe is a stunning example of the traditional hot rods Wilkie builds at his Toowoomba rod shop and he tells us how it happened.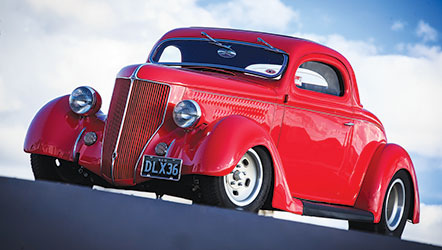 We not only travelled north, we also went south, to Hobart in Tasmania where we caught up with Don Langdon and his reborn '35 Ford tourer.
Langdon built the tourer back in the 1970s when it won the Top Tourer trophy at the '77 Nationals, but he has since given the beautiful red rod a modern makeover that makes it even more stunning.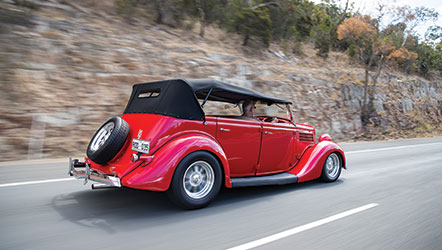 The ASRF Nationals are big business today, but in 1973 when they were first staged the focus was more on fun than finances. We sat down with the people involved in organising the first Nationals, and even revisited Narrandera to see what those early Nats were all about.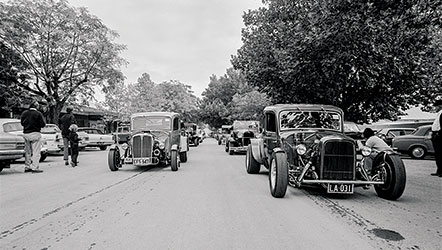 Malcolm Mountjoy thought he was the luckiest guy alive when his name was pulled out the hat to win the '23 T-bucket on offer as the first ever raffle car at the 1977 Nationals.
The Bendigo hot rodder still owns the car and it is as sharp today as it was the day he won it.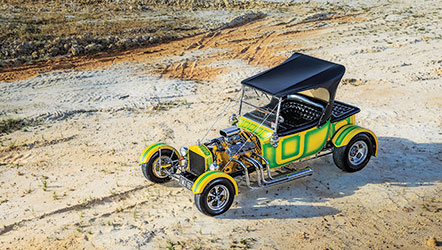 As well as those great features we also have stories on Peter Leech's love affair with the Deuce, Leon Birss's Model T fascination, Ross Preen's cackle car, and pioneering drag racer, Brian Keegan.
To ensure you get your copy of AHR #4: