Issue #2 of Australian Hot Rodder picks up the story of Australian Hot Rodding where AHR #1 left off, with 152 glossy, full-colour pages jam-packed with great in-depth stories and stunning photography of some of the best hot rods built in this country.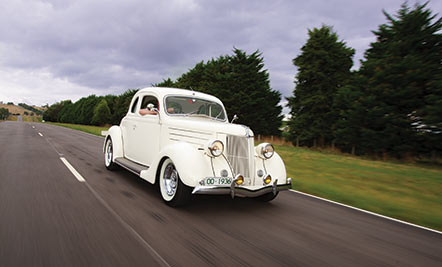 CLASSIC BEAUTY
It starts with Melbourne hot rod builder Colin Bate's beautiful '36 Ford coupe, which features on the cover. The coupe caught Colin's eye when he first saw it in the late 1960s and when it came up for sale in 1975 he jumped at the chance to own it.
In the years he's owned it, Colin has twice rebuilt it, he's also shown it, drag raced it, and used it as a daily driver. We chronicle the absorbing story of this true classic of Australian hot rodding.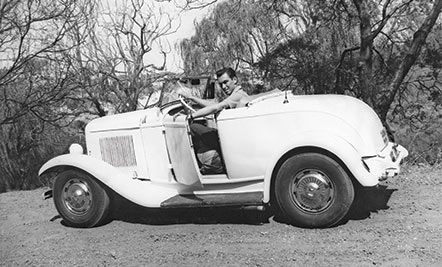 80 YEARS YOUNG
With the '32 Ford turning 80 this year, we reckoned it was timely to look at the icon of hot rodding in Australia; it's history, its appeal to hot rodders, together with a selection of some of great Deuce roadsters.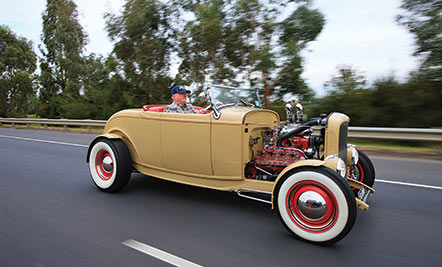 LIL' BROWN DEUCE
AHR publisher's own '50s-styled highboy Deuce roadster with all the traditional touches, like the Offy-equipped blown flathead, quick-change Halibrand diff, classic Guide headlamps, 15-inch Mercury steelies and big and little whitewalls.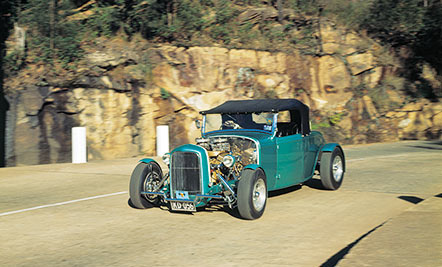 DALEY'S LITTLE BEAUTY
Sydney hot rodder Kevin Daley vowed never to sell the channelled '32 roadster he built way back in the 1960s, and he was as good as his word. Kevin's daughter Leanne now owns and treasures the car, and why not, her first ever ride in a car was when she was driven home from hospital in the roadster after her birth.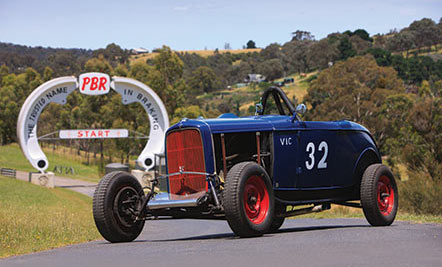 A SPECIAL ROADSTER
Ray Sprague built his first hot rod, a '34 Ford coupe body channelled over a '32 chassis, in the 1950s, which was followed by a full-fendered, Dodge-powered '32 roadster in the early 1960s. Today, he's better known for terrorising the classic road-racing brigade in his home-built flathead-powered highboy '32 roadster. Ray built the roadster's alloy body himself using a home-built wheeling machine to create the curves.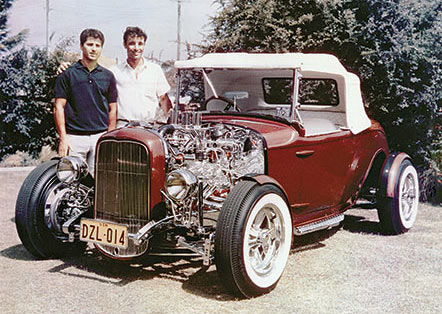 OLD FAITHFUL – THEN AND NOW
Visitors to hot rod shows in the 1960s couldn't believe their eyes when they saw the flathead-powered '32 Ford roadster built by Manny Azzopardi and Charlie Buhagiar. They started with a '32 Ford Sport Coupe and cut it down into a roadster, then channelled it and polished and plated everything in sight to create the stunning car that swept the show scene from its mid-1960s debut to its final outing in the early 1970s. After trading the car in on a new Falcon GT Azzopardi and Buhagiar lost track of their iconic hot rod, but AHR has traced its full history, ending with its current owners in South Australia.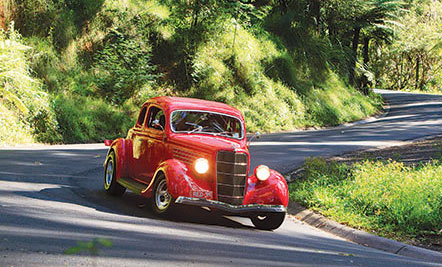 RED HOT CHILI COUPE
Neil 'Ned' Kelly went against his father's wishes that he buy a new Holden and instead bought an old '35 Ford Coupe and began transforming it into a classic hot rod. Kelly successfully showed the coupe, drag raced it, and drove it every day through the 1960s. The neat coupe still resides in Kelly's garage in suburban Melbourne.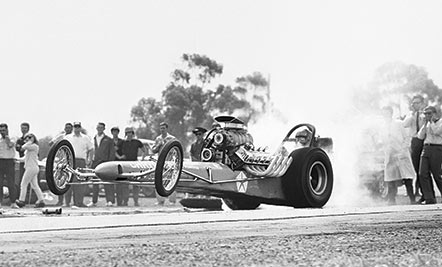 SPEED MERCHANT
Drag racing is now a high tech, big dollar sport, but back in the 1960s when it was just getting started here it was possible to race your everyday driver.
Back then, Eddie Thomas was the king of the drag strip in his big, blown Chrysler rail. Thomas dominated local drag racing, setting record after record and beating all comers, and took the fight up to the visiting American team of drag racers when they came here for the Dragfest in 1966. Old 'ET' is still powering on, as we discovered.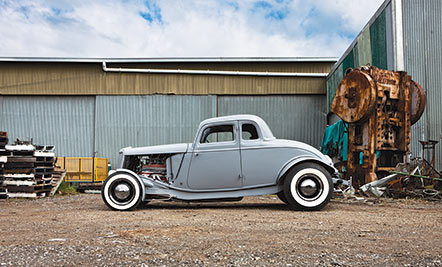 THE WAY THEY WERE
Twelve years ago when Leno Pirotta decided to build a new hot rod he wanted to build it just the way he would have done had he built it in the 1960s when he was a young kid chasing girls around Melbourne. Pirotta is best known for building the sharp '39 Ford Sloper back then, but has stepped back into hot rodding after an absence of several years and has just completed the neat '34 Ford highboy coupe.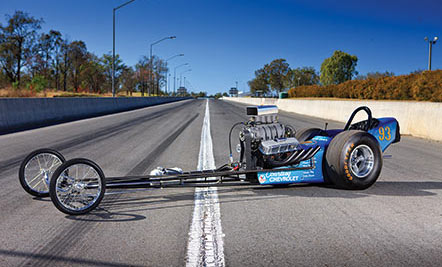 TIME MACHINE
Bob Keith came to Australia with the American team that visited our shores in 1966 for the Dragfest series and raced a stunning big-block Chevy rail. Years later, a chance meeting between Keith and Brisbane-based drag racing writer, Lex Swayn, led to the idea of re-creating Keith's old car. We went to Willowbank in Queensland to photograph the stunning result.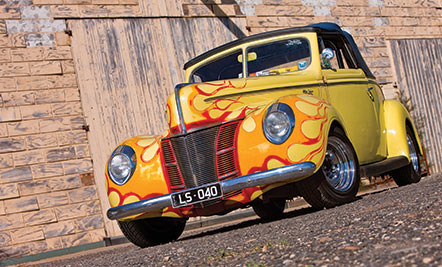 IN FOR THE LONG HAUL
Veteran Melbourne hot rodder Leo Spessott has driven his flamed yellow '40 Ford convertible to every ASRF Nationals staged to date. Spessott bought the car in the 1960s and built it into a hot rod capable of transporting his family to rod runs.
Today, it's a familiar sight at events all around Victoria, and the Nationals whenever and wherever they're staged.