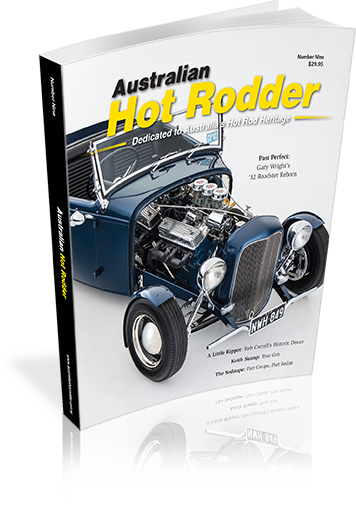 Packed with great features and stunning photography on new and nostalgic rods and customs.
– Michael Morris' beautiful recreation of Gary Wright's '60s era channelled Deuce roadster.
– One of the show sensations of the '60s, the Sedoupe lives! We track it down.
– In its 60s years as a rod Rob Carroll's '32 highboy roadster has been witness to every trend in hot rodding.
– Keith Stamp has fought back from a stroke and continues to be active in hot rodding and historic racing.
– Frankie 'Flatout' Robinson has always lived and loved life in the fast lane.
– After years as a radical hot rodder Rob Hoskins turned restorer to preserve the early Fords he loved so much.
– Mower man Glen Rewell turns trash into hot rodding treasure.
– The Fuel Altereds were the clowns of drag racing in the 1970s. We revisit the wild tyre smoking antics of Jim Walton.
Order your copy now! Click here, or phone 0409 705 062.