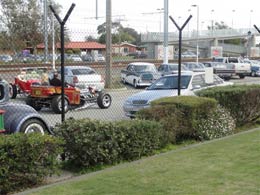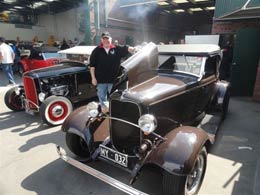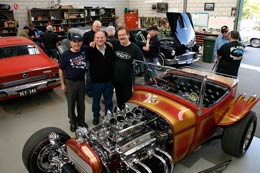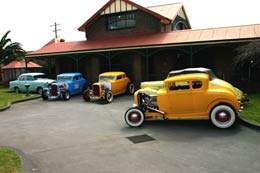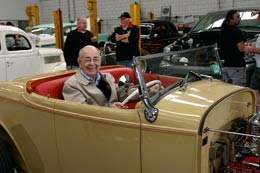 Australian Hot Rodder Issue #1 launched at Pirotta Motors with drag racing & hot rodding legends
Any remaining doubters who thought the 'Crimson Pirate' wasn't really a runner were finally convinced when, to a stunned audience of more than 100 hot rodders, the classic hot rod's co-owner, Charlie Caruana not only fired up the car's nailhead Buick V8 but also drove it out of the Pirotta Motors factory and down the street.
It was the first time in 33 years that he'd driven the car, and the highlight of the function to celebrate the launch of the first issue of Australian Hot Rodder, but it was far from the only one on the day.
Joe Pirotta also fired up 'Satisfaction' his awesome blown 427 cubic inch SOHC V8-powered Cortina drag car to the delight of the assembled crowd. If that wasn't enough he also ran up a 600-plus horsepower 351 cubic inch Windsor V8 on his dynamometer.
Also on hand to celebrate the launch of issue Number One of AHR were a number of cars featured in the first issue, along with their owners.
Barry Fletcher was there in his beautiful full-fendered '32 Ford roadster, so was Ray Charlton who drove his well-travelled '32 Ford highboy roadster down from Castlemaine, and John Bowker brought along his ageless channelled '34 Ford roadster.
While the featured cars were the centre of attention there were dozens of cars parked around the factory that were also deserving of a look, cars like Leo Spessott's flamed '40 Ford convertible, Neil Kelly's beautiful '35 Ford coupe, Colin Bates stunning white '36 Ford coupe and Peter McColl's cool single-spinner Ford coupe.
Among the crowd on the day were many hot rodding and drag racing luminaries, like veteran Eddie Thomas and Jim Walton, as well as hot rodding legends, Miles Johnson, Peter Clara, John Lynch and Australian Street Rodding publisher, Larry O'Toole.
It was a great day that will long be remembered by those who were there
---
PHOTOS
It runs! Charlie Caruana takes the Pirate for a spin for the first time in 33 years.
Barry Fletcher with his '32 roadster.
Joe Pirotta, Charlie Caruana and Sam Midgley. Midgley was responsible for the unique gold panel painting on the Pirate.
Just some of the cars parked around the Pirotta workshop on the day.
Drag racing legend Eddie Thomas tries on the editor's '32 roadster for size.