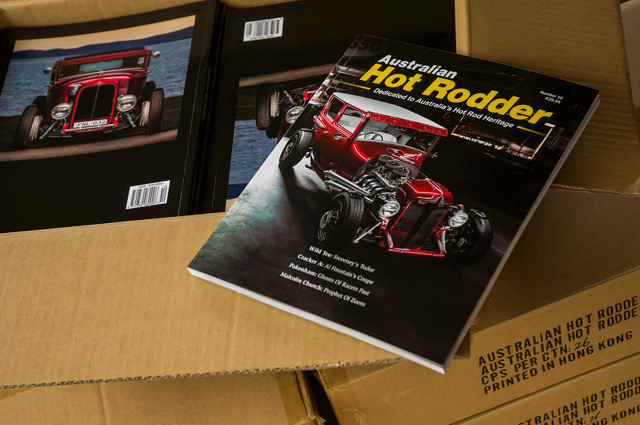 It's been a long and sometimes frustrating wait, but Issue #10 of Australian Hot Rodder has finally arrived at AHR headquarters and is being shipped out to our pre-order customers as fast as is humanly possible.
We'd like to thank you, our loyal readers who have been more than patient in waiting for AHR #10 to become available.
Like everyone in these difficult times the COVID 19 pandemic has thrown up challenges we have never had to face before.
Limits on movement have meant we haven't been able to travel to do the stories and photo shoots we would have liked.
Rod runs and shows have been postponed or cancelled, which has limited our ability to catch up and talk to hot rodders, as we like to do.
We, like you, are hoping that 2022 is better than the year just gone, that the problems of COVID 19 will fade from our lives, and we can get on with life as we knew it before the pandemic struck.
Now we have copies of AHR #10 being delivered we can fully turn our attention to AHR #11.
We have been working on AHR #11 for some time now and can reveal some of the content we are working on or have in the planning stage.
Rod Hadfield's '32 roadster
Ray Davis's sweet Model A roadster
John Taylor's lucky find '34 coupe
The screaming six-pack altered of the Wilson brothers.
The Count' Max de Jersey
Wayne Sweeney's rare '33 roadster pickup
Rod Broberg's Model A coupe
That's just a taste of what's to come. We'll keep you updated as we get on with it, check out the website for our regular posts.
Without your support it wouldn't be possible to publish AHR at all, so thank you.
If you haven't ordered your copy of AHR #10 yet, click here or phone the editor, Graham Smith, on 0409 705 062 and we'll make it happen.